A Unitarian Universalist Minister to Support the Community
---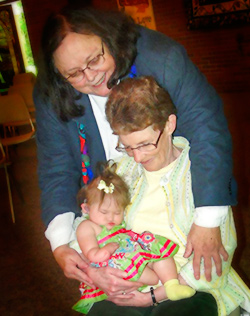 I am devoted to helping religious communities strengthen themselves and grow. I enjoy supporting other ministers and staff, and I appreciate being able to share my talent and experience whenever helpful.
I am particularly interested and experienced in leadership development, committee development, and pastoral care. I also have expertise in helping strengthen Small Group Ministry (Covenant Groups) and supporting Covenant Group facilitators by leading a group for them.
I like people, I am experienced, and I enjoy helping Unitarian Universalist communities resolve problems, identify goals, and plan for the future..
I hope that the congregation is open to growth both in numbers and depth of worship and programming -- and also willing to "do what it takes" to help create the programs and structures and personal outreach necessary to integrate new faces into the congregation.
I am pleased to be a member of the Unitarian Universalist Association Ministers Association for over 30 years.
A Leadership Style Focusing on the Team
---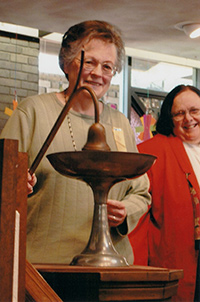 I see lay leaders, other ministers and staff Members, and myself as constituting a leadership team working together.
I am comfortable with a role on the team as an experienced developer of structures and training.
Sometimes I am a "vision caster" -- someone to identify and keep in mind a common vision and to help ground that vision by lifting up its connection to our Unitarian Universalist heritage, to what has gone before.
At other times I might serve as a "process watcher," endeavoring to be certain that all the points of view present are heard and that there is a respectful feeling tone to a meeting -- and also that even the very structure and configuration of a congregation are appropriate for getting policy made, events "calendared," and goals achieved in furthering the mission of the church, given the size and resources of the congregation.
A very important concept for me, in my leadership role, is my "giving away the ministry" -- in other words, my helping facilitate the ministry of the church being shared broadly among all parts of the congregation and not centered only in a few people (as if it ever successfully could be!)
I want to foster good communications among all parts of the congregation.
An Ideal Match for Rev. Mary Moore's Skills
---
I very much like having lots of children and youth and families of all kinds in the congregation as well as single people, empty nesters, young adults, and elders. Diversity of theological orientation, socioeconomic level, racial and ethnic background, sexual orientation -- diversity of opinion in general -- is something which I seek in a congregation.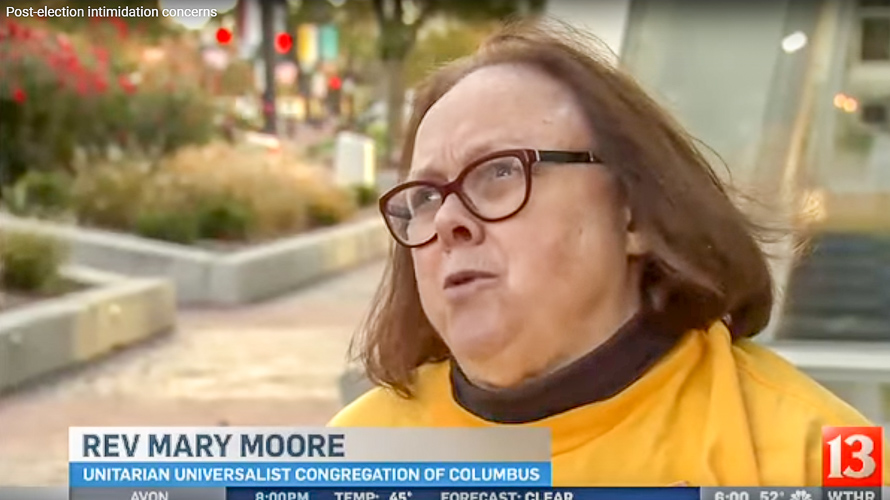 Rev. Mary More Standing on the Side of Love
See the news report.
In the presence of this diversity, I would like the congregation to be a group of folks of all ages who are excited about their church, who enjoy each other's company, and who look forward to working together with their ministers and other staff members toward a common future.
I want the congregation to have a commitment to leadership and committee development -- and not just a commitment to hearing about it at Board meetings; rather, I would like to see the congregation really seeking to identify and empower leaders and ensure that organizational structures support their work.
Hopefully the congregation will want to explore or broaden its Small Group Ministry (or Covenant Groups). I enjoy enriching the experience for Covenant Group facilitators by leading groups for them.
Hopefully, the congregation will care about music, drama, and the arts, and it will also care about the natural world.
Finally, I fully want to be able -- even encouraged -- to bring all that I am, my heritage, personal story, education, and experience -- my hands and heart as well as my head -- to this new ministerial assignment.